The next public hearing for communities of interest input (Spanish – Countywide) will be on August 7, 2021 at 10:00 am.
Next Citizens Redistricting Commission regular meeting will be on August 11, 2021 at 6:30 PM (PST) followed by the public hearing for communities of interest input (Zone G) at 7:00 PM.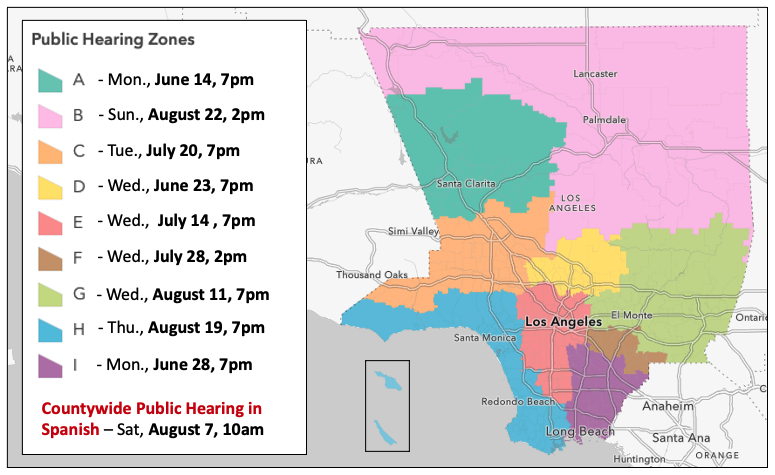 The zones on the map for the public hearings has no relationship to the map for the Supervisorial Districts.
The zones are intended to allow communities of interest to express their ideas in smaller settings.
Every ten years, supervisorial districts must be redrawn so that each district is substantially equal in population. This process, called redistricting, is important in ensuring that each Board of Supervisors member represents about the same number of constituents. In the County of Los Angeles, the CRC is responsible for drawing these supervisorial districts. Redistricting is done using U.S. Census data, which is usually released around March 31, 2021, but is expected to be delayed until June or July 2021 due to the COVID-19 pandemic. For the County of Los Angeles, the redistricting process must be completed by December 15, 2021.
Why is Redistricting important?
Redistricting determines which neighborhoods and communities are grouped together into a supervisorial district for purposes of electing a Board of Supervisor member. Our independent redistricting commission, made up of members of the public, are responsible for redrawing the next district map for our supervisorial districts. You have an opportunity to share how you think district boundaries should be drawn to best represent your community.
What criteria will be used when drawing district lines?
District lines will be adopted using the following criteria in order of priority:
Each district shall be reasonably equal in total resident population to the other districts, except where deviation is required to comply with the Federal Voting Rights Act of 1965 or allowable by law.
Districts shall comply with the Federal Voting Rights Act of 1965.
Districts shall be geographically contiguous.
The geographic integrity of city, local neighborhood, or community of interest shall be respected in a manner that minimizes its division.
To the extent practicable, and where it does not conflict with numbers 1-4 above, districts shall be drawn to encourage geographic compactness.
Besides the above criteria, districts shall not be drawn for purposes of favoring or discriminating against an incumbent, political candidate, or political party.
How Can the Public Participate in Redistricting?
The CRC wants active public participation for input and dissemination of redistricting information.
CRC Meetings
CRC meetings are open to the public and posted along with other County Commission meetings and on this CRC website. CRC meeting schedules, agenda, minutes, and recordings of meetings will be posted and made available.
Public Hearings
Overall, 10 public hearings will be held in Spring 2021 before the release of the U.S. Census Bureau data, followed by additional public hearings in Fall 2021 to review proposed CRC Redistricting Plan options.
When will the process begin and end?
Milestones
Because of COVID-19, the County expects to receive the U.S. Census Bureau data by July 1, 2021. Note: This date may change because of the census extension due to COVID-19. The CRC must finalize the Redistricting Plan no later than December 15, 2021.